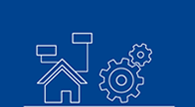 Standard Products
With the mission of "being a practitioner of efficient and appropriate energy management, protecting and improving the earth environment", the energy efficiency management and energy saving solutions provided by Boer electric power co., ltd. are active strategies of effective control to achieve continuous efficiency increase, so as to reduce energy consumption and energy cost expenditure.
Summary of demand
Integrated solutions provided by Boer Power can help customers to achieve worry-free and efficent operation of electricity . It covers primary intelligent electrical distribution system abd energy feeiciency ,Power quality abd Photovoltaic power station ,one-stop EPC service and finance support .
solution
Switches , industrial control elements , other standard power distribution components .
Customized power distribution products .
Smart home solution : provides home security , home comfortable , family health and environment control service through wireless communication technology .